A solution for problems with production planning and scheduling.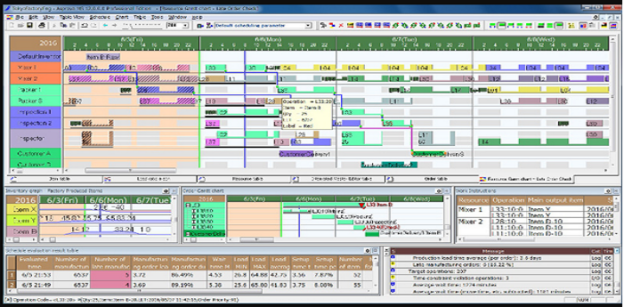 Asprova, the Advanced Production Scheduling System, is a powerful software tool that's been delivered to many factories around the world for the leading multinational manufacturing companies.
Due to its sophisticated scheduling logic and in-memory architecture, it provides an unprecedented speed of job scheduling. It takes only 0.2 secs to generate 500+ jobs for 100 production orders. 2 secs for 1000 orders. 17 mins for 4 million jobs. This high speed finite capacity scheduling logic enables you to fine tune your detailed production schedules multiple times during the day reflecting work progress and additional orders by a push of a "Reschedule" (F5) button.
Asprova was originally developed in Japan, where Asprova is overwhelmingly the most widely used production scheduling system, with a market share of 52.4%. (According to Techno Systems Research Co.,Ltd Report 2011)
As many of Japan's leading manufacturers are using Asprova on daily basis, that Asprova is considered by many as a crystallization of Japan's manufacturing know-how, hence Asprova motto "Join the WINNERS".
The Advanced Planning and Scheduling system is the corner stone of the Smart Manufacturing model as it enable the accurate forecast and optimization of the production, and also a reaction to changes in real-time. For this reason, the APS system is needed by all manufacturers, including those who already owned a working ERP/MRP system and a MES system on the shop floor.
Asprova APS product is a proven solution, currently used by more than 2,000 companies all around the world including many major domain leaders such as Panasonic, Canon, Nidec…
*Core benefits: Asprova empowers you to achieve your business goals and increase company profit through visual management, Inventory reduction, Increaseing troughput, Improved customer service and simplicity to be deployed.
NOTEWORTHY FEATURES
Advanced Scheduling Engine

: In addition to the scheduling speed mentioned above, it also provides the forward/backward scheduling options, auto operation split, load leveling, inventory based auto replenishment, and it considers resource priorities, main-sub resource relationships (e.g. machines and tools), skill maps, furnace settings, etc.
High Visibility

: It comes with many built-in graphs and charts to display business critical information in various views. E.g. Resource Gantt Chart, Resource Load Graph, Order Gantt Chart, Inventory Graph, etc.
Easy Data Maintenance

: Data maintenance is kept minimal with features; such as, Upload/Download, Search, Replace, Auto-fill, Undo and Redo, Sort, Copy and Paste from/to Excel, Graphical Process Flow Editor, Database Connectivity with SQL Database and Oracle, etc.
User Customization

: It provides a rich set of built-in formulas that you can utilize to define your own expressions. Expressions can be used to tweak the rescheduling calculation, graphical user interface, the labels shown on the chart/graph, etc. This eliminates the need for typical external programming and customizations.
Flexible User Interface

: The Excel like user interface helps you achieve a very steep learning curve due to its intuitiveness
ERP Integration

: SAP, Microsoft Dynamics, JD Edwards, Oracle EBS, Custom ERP… etc.
User Friendly

: Works like an Excel spreadsheet. Easy even with large amounts of data. Data can be input or output specifying any field from external databases
Lead Time Reduction

: By synchronizing multiple processes in the schedule, Asprova eliminates unnecessary wait time between processes.
Planning Efficiency Improvements

: Speed up planning proposals with rapid and accurate delivery estimates reducing lost opportunities.
Inventory Reduction

: Asprova APS's solid understanding of future equipment load enables you to make the changes you need, shift adjustments and maximum use of resources
For the complete set of features and modules, please visit:

https://asprova.com